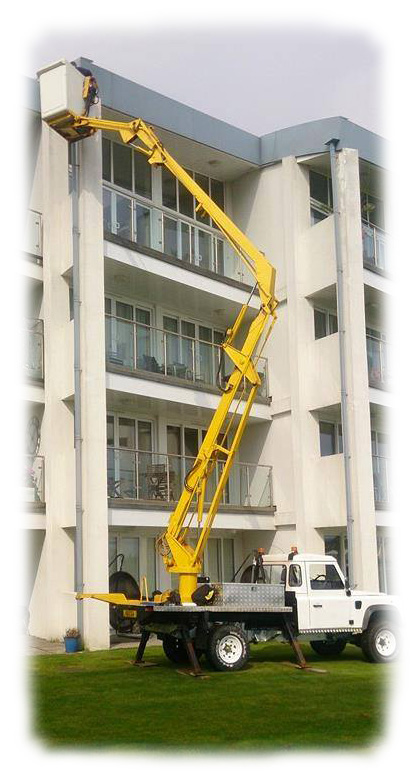 There are many benefits of employing a mobile elevated work platform (MEWP) – or cherry picker – over ladders or scaffolding for almost any elevated job.
Faster, safer, easy to use, you will invariably save time and costs and enhance safety compared to using scaffolding or ladders, and the manoeuvrability and versatility of a MEWP allows you to adapt to situations and sensitive environments where scaffolding cannot.
Short Duration Tasks
MEWPS are ideal for short duration tasks; scaffolding often takes as long to erect and dismantle as the job itself, while ladders are far less stable or safe. Additionally, both these options requires extra employees to prepare and operate safely.
By comparison, a MEWP requires minimal setup and takedown time, and ensures the whole job can be completed in a fraction of the normal time.
Providing the perfect safe working platform for all short-term light work, a cherry picker is the perfect choice for maintenance and installation tasks such as:
Maintenance
Changing or repairing lights
Erecting or cleaning signage
Cleaning guttering
Window cleaning
Inspecting roofs
Trimming trees and bushes
jet-washing
graffiti removal
external painting
Sensitive Environments
MEWPS are similarly ideal where you need to access a hard-to-reach or unusually-shaped place, or are working with challenging terrain or poor ground conditions that would make using ladders or scaffold difficult or unsafe.
Their manoeuvrability, versatility, accuracy and reach actually removes risks associated with the setting up and dismantling of scaffold towers or ladders or setting up work equipment on potentially fragile surfaces, roofs or skylights.
They are also the perfect choice for installation and maintenance applications where there are obstacles at ground level or obstructions such as steelwork or overhangs which would make other access options impractical.
More Safe. Less Risk!
It's important to consider the potential risks during all phases of the job – not just the 'use' phase. For example, consider a roof repair that only needs one person to accomplish; assembling a scaffold tower and installing temporary edge protection safely will still require two or more people, therefore putting several people at risk during the setup and dismantling of work platforms so that one person can work safely.
Our professional IPAF certified operators guarantees you the highest standard of workmanship, and are trained to recognise and avoid any potential dangers or hazards such as overhead power lines, ground conditions, obstructions and stability issues, so they can avoid any risk to themselves or anyone else around the job site.
You will be amazed what can be achieved in a very short space of time, without the fear of falling from ladders or the hassle of erecting scaffolding! 
Contact us now for a free no obligation quote for your maintenance or installation project.